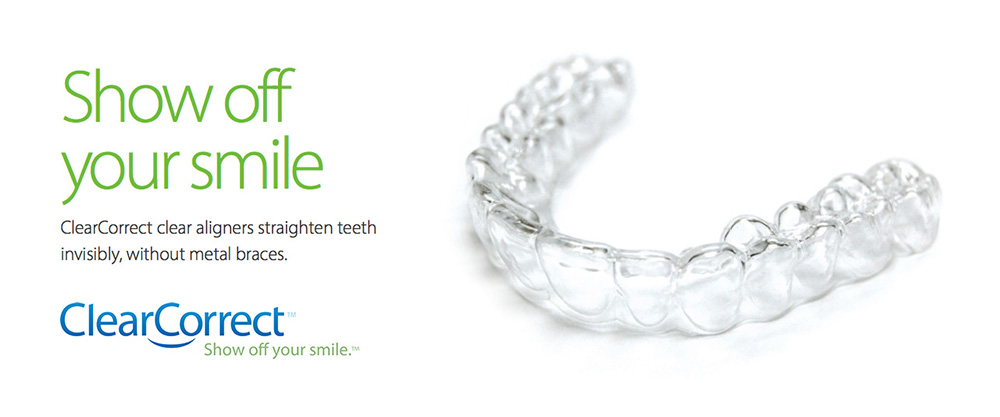 Clear Correct is an alternative to metal braces – no wires, no brackets. ClearCorrect invisible braces are clear custom-made removable aligners that incrementally adjust teeth. With ClearCorrect, we can straighten your teeth using a series of clear, custom, removable aligners. Each aligner moves your teeth just a little bit at a time until you eventually get straight teeth.
We start by taking impressions of the teeth, x-rays, and photographs. These are sent to the ClearCorrect company.  Using virtual imaging technology, a 3D blueprint is established which maps out the complete sequence of treatment from where your teeth are currently to where you want them to end up. Your clear aligners can then be manufactured to achieve the desired results. You'll wear your aligners all the time, except while eating and drinking or during daily tooth care, such as brushing and flossing. Your ClearCorrect aligners are so clear they are barely noticeable so they won't have an impact on your day to day life. Aligner by aligner, you'll be able to see the difference as your teeth slowly adjust and align to your target smile. You'll visit us periodically for checkups to see how you're progressing until you eventually have the straight smile you've always wanted.
With the results and convenience ClearCorrect offers and the advantages it has over other treatment options, it's an easy decision. With ClearCorrect you can get the confidence you'll enjoy with straight teeth so you can show off your smile!
Crowding Corrected by Clear Correct

Overbite Corrected by Clear Correct

Spacing Corrected by Clear Correct